Check out some of the most common items that we carry. Below you will find a list of garage door and opener parts along with a brief description of each. Not sure of the name of a part you are looking for? You may just find it here.
We Sell to the Public. DIY'ers Welcome. Visit Us Today!
https://www.parts4garagedoors.com
Houston Store- 11020 Katy Freeway #116 Houston, TX 77043
Channelview Store- 16023 East Freeway #56 Channelview, TX 77530
TORSION SPRINGS- in stock
Torsion springs do all the heavy lifting for your garage door. Their job is to counterbalance the weight of the door, so that it feels relatively weightless during operation.
It is very important to get the correct spring size when buying a torsion spring. Getting too large of a spring, or too small of a spring will lead to frustrating and costly issues down the road! Watch our video on YouTube that shows how to measure garage door springs… https://youtu.be/zMOJUJq2GC8
We have residential torsion springs at the best prices, and in stock!  Common sizes are .192, .207, .218, .225, .234, .243, .250, and 262 wire diameter. Buy local, and pick up the springs that you need today. Let our helpful staff assist you with the size you need, and with any questions that you may have.
Looking for a good company in the Houston area to replace your garage door springs? Visit their site: Houston Garage Door Spring Replacement
COMPLETE GARAGE DOORS- in stock
We carry quality CHI, made in the USA, garage doors in stock, in both white and almond color- 16×7 and 8×7. Visit the manufacturer site at https://www.chiohd.com. These doors are an upgrade from standard thin builder grade doors. The steel diameter is 25 gauge (just one step away from a storm quality door). The track comes with more durable rolled edges, the torsion springs are 15,000 cycle dual-torsion springs, the rollers are upgraded quiet nylon wheels with smooth running bearings, and the hinges are wide profile heavier gauge steel. Want to replace just your panels? We sell them singularly, or by the set. Bring in a picture of your old door to make sure it's a good match.  We deliver upon request- $40-$60 additional fee. Not ready to install your own garage door in the Houston area? See our top recommendation: Houston Garage Door Installation
GARAGE OPENERS
LiftMaster 8550 or LiftMaster 8160 https://www.liftmaster.com
We specialize in professional quality openers like LiftMaster. These motors are strong and dependable for a lifetime of worry free operation. We also sell pre-assembled Chamberlain units for low-cost and speedy installation. Need someone to install it for you? We recommend: Houston Garage Door Opener Installation
STRUT BRACING- in stock
Pick up struts to repair torn or bent panel sections. Ask us about proper placement, or how many you will need for your garage door repair. You can also add additional struts to firm up your door in case of high wind. Please keep in mind that adding 2 or 3 struts might make your door too heavy, requiring that heavier torsion springs be installed.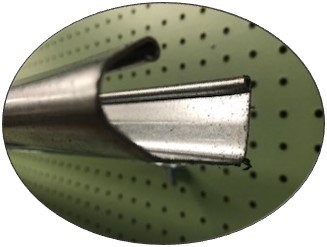 GARAGE DOOR TRACK- in stock
Easily replace bent or damaged track sections for 7 ft tall and 8 ft tall doors.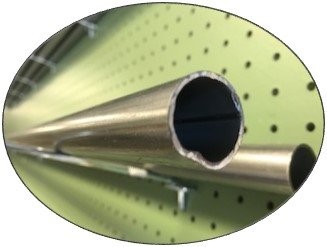 TORSION TUBES- in stock
These rigid tubes transfer the energy of your torsion springs to the cables, and need to be in good shape. Consider replacing them if the tube has deep divots from the set screws, or if it is bent, or badly corroded.
WEATHERSTRIPPING (by the foot)
 If you can see daylight under your garage door, or sections of the rubber have gone missing, then it's time to replace the rubber seal. New weatherstripping will help keep debris and the elements out of your garage. This weatherstripping slides on a two channel retainer. Please bring in a piece of your old weatherstripping, or a picture to make sure you get the correct product that works for your door.
WEATHERSTRIPPING- in stock
We carry the one piece style AND the universal style of weatherstripping meant to fasten to tongue and groove panels. This product is the thickest and most durable. It is available in 8 ft or 16 ft lengths.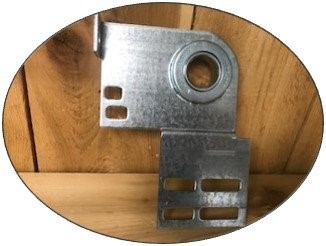 END BEARING PLATE- in stock
These bearings must spin freely every time the door goes up or down. They are made to last just about 10 years before needing replacement. Worn out bearings will make your door noisy and operate rough. Replace at the same time that you are changing out the springs.
CENTER BEARING- in stock
This bearing plate is bolted to your torsion spring(s) and is vitally important to the sound operation of your door. The best practice is to replace the center bearing plate when replacing your springs. Watch for black residue along the plate, or a black trail down the middle of your panels.
LOOSE BEARING- in stock
Some older systems have bearings that aren't attached to the plate. We have loose bearings for tubes with a 1 inch o.d. (the most common).
SHEAVE PULLEY- in stock
Used on extension spring doors, this pulley is vital to the smooth operation of the door. The garage door cable travels through the pulley channel and is under immense pressure. Replace it if it appears crooked or there is black residue present.
EXTENSION SPRINGS- in stock
Extension springs are primarily used on lighter single car garage doors. Raise the door to diminish spring tension to easily remove the springs for replacement. These must be replaced in pairs. Replace them if they're old, worn, rusty, or have large gaps between the coils.
NYLON ROLLERS- in stock
Install nylon rollers to greatly reduce the noise of your garage door. These commercial grade rollers are one of our company's top selling items! Don't wait until your wobbly rollers pop out of the track to replace them. Come pick up yours today. We show you how to replace the entire set in 20 minutes or less.

​
TORSION CABLES- in stock
Inspect your existing cables and replace them if they are rusty, frayed, or pinched. Cables bear the weight of the door, and are under extreme tension. You must unwind your spring tension in order to safely replace them. Check out our YouTube video on how-to repair a mis-aligned cable… https://youtu.be/CacSYylKaEE
#1, #2, & #3 HINGES- in stock
Perform your own safety check and inspection on your garage door every 4 to 6 months to ensure safe operation. Inspect each hinge and replace those that are broken or cracked. The #1 hinge will be located between panels starting at the bottom. The #2, and #3 will be at the next 2 transitions above. Check out our YouTube video on hinges… https://youtu.be/HF_Wu5aHy_g
CABLE FIXTURE- in stock
This is the bracket that holds the cable in place at the bottom of the door. All screws must be tight and in place to safely hold the tension of the cable. Replace rusty, corroded, or bent fixtures.
HANDLE- in stock
Garage door handles are optional on all installs. Never allow a child to hang from here!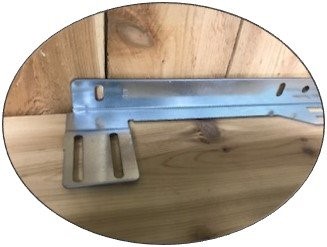 TRACK FLAG- in stock
This bracket is used to fasten the vertical and horizontal tracks to the wall.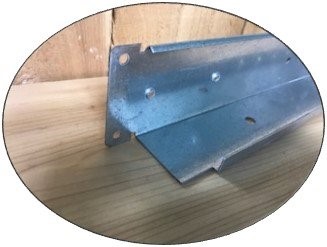 CENTER STILE- in stock
A key support element to the structure of a panel, the center stile can sometimes get bent or damaged from an excessive force applied from the opener motor.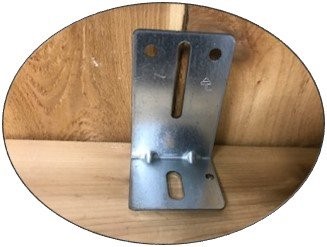 L BRACKET- in stock
This bracket is attached to the vertical track in 2 or 3 positions. The #7 bracket will be the lower one, and the #8 bracket would be the next one up.
SELF TAPPING SCREWS- in stock
Used to fasten hardware to the door frame without the need for drilling pilot holes first. Buying a strut brace? Be sure to pick up a small bag of these handy screws.
DOOR LUBRICANT- in stock
This heavy-duty lube is long lasting in the hot and dusty conditions of a garage. Spray on all the door's moving parts every 4 to 6 months to protect parts from corrosion and to remedy those pesky squeels and squeaks.
LITHIUM GREASE- in stock
This is a great product for use on bearing plates, opener gears, and for general lubricating. Avoid covering your track with grease, and use a spray type lube instead.
BACK-UP BATTERY- in stock
Operators with a battery back up will need replacing every 3 to 5 years. Please make note of the make and model number of your unit.
UNIVERSAL REMOTES- in stock
These universal remotes will program to the vast majority of opener units out there. The programming procedure is included in the written directions, but we will be happy to show you how easy it works.
LIFTMASTER REMOTES- in stock
We have remotes for LiftMaster, Chamberlain, and Craftsman units. Please make note of the learn button color located on the opener motor. The button color will be used to match you with a remote that operates on the same frequency.
UNIVERSAL KEYPADS- in stock
Easily open your garage door from outside by entering your own secure 4 digit code. Need help programming? We can show you how.
CHAIN TROLLEY- in stock
We carry various chain trolleys. Call ahead with your make and model number to confirm that we have the right one for your unit.
GENIE TROLLEY- in stock
The trolley is a very common replacement item on Genie screw-drive models. If the motor runs, AND the screw can be seen turning, BUT the trolley is not moving- then the metal teeth are likely worn out.
INNER SLIDE GEAR- in stock
The plastic teeth, as seen here, can wear out over time and will need to be replaced on your LiftMaster, Chamberlain, or Craftsman screwdrive units.
LIMIT SWITCHES- in stock
The limits determine how far up and how far down you operator unit will push the door. These Genie limit come in magnetic or lever styles.
LIMIT ASSEMBLY- in stock
Located under the big nylon gear, this assembly has a contact that travels to the opened and closed position. The yellow wire connects to the upward contact, and the brown wire connects to the downward contact.
SCREWDRIVE COUPLER- in stock
These drive couplers usually become brittle over 8 to 10 years and will eventually break into pieces. It's a simple fix to avoid having to buy an entirely new opener unit.
GENIE COUPLER- in stock
These couplers strip out on the inside as a result of the screwdrive engaging and stopping. A relatively simple repair that will save you from buying a new opener.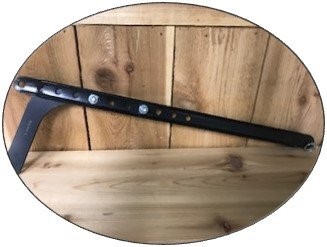 OPENER J BAR- in stock
If your door ever comes down hard on an object, or gets jammed- then the J bar can get bent. It may also be an indication that the force is set too high on the opener motor and should be reduced.
GENIE SAFETY EYES- in stock
Genie has come up with these universal safety sensors that will work with all of their opener models. Sensors must be in place and functioning for your garage door to close. The LED lights will always be green on one side and red on the other. They will not change color. Check out our YouTube video on safety sensors… https://youtu.be/2Rg20HZX1cc
LM & CHAMBERLAIN SAFETY EYES
Safety sensors are required for the function of the garage door. If they are damaged, or out of alignment then the garage door will not close. This style comes in green and amber (yellow) colored LEDs. Check out our YouTube video on safety sensors… https://youtu.be/2Rg20HZX1cc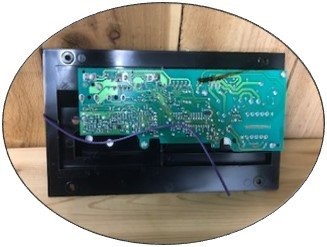 MISC CIRCUIT BOARDS- in stock
Please make note of the make, model, learn button color, and manufactured date of your opener unit to identify the correct board. Always unplug the electrical cord before touching anything inside the motor unit.
CHAMBERLAIN RAIL PULLEY
This pulley is located at the end of the long opener rail and allows a cable to pass through. There is a wider style of pulley needed if the full chain passes through it.
MISC CAPACITORS- in stock
We carry a universal capacitor that works for all Genie units, and another one that works for LiftMaster, Chamberlain, and Craftsman.
_____________________________________